Greenhouse Production – Peat Pots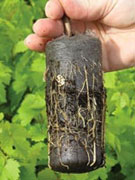 KC Vine Nursery has adopted using peat pots as a first preference for green house grown grafted vines. The peat pots are inoculated with microbes and starter nutrients and have a greatly reduced risk of transplant shock.
These vines are available to clients 10 weeks after grafting and enable vines to be available in the same year as the order was placed. They are packed into pallet sized produce bins at 252 vines to a bin. The advantage of this style of vine is that it can be produced with a much shorter lead time.
Lead Time – Order by June for planting the following year.