Dormant Grafted 3 Bud Vines – Field Grown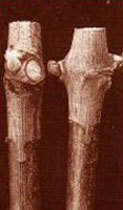 Vines are grafted on Omega grafting machines, using client selected root stocks, varieties and clones. The grafting process begins in August. Vines are hot water treated, grafted, callused, waxed and planted out in the field nursery from mid September onwards.
The plantings are nurtured until mid June the following year when, if ordered, they are dug up, graded and packed for clients. The shoots are trimmed to 3 buds and the roots are also trimmed. The packed vines are cool stored until growers are ready to receive the material for planting.
Lead Time – Order by June for planting the following year.